Safe with people
Disinfects safely
in the presence of people

UV-c disinfection
Maximum power for the
elimination of viruses and bacteria

HEPA H13 filtration
High efficiency
air filtration

Destroys bacteria and viruses
Eliminates 100% of bacteria
and prevents their replication
UV-C DISINFECTION: DESTROYS ALL BACTERIA, MOULD, VIRUSES AND MORE
Air purifiers trap unhealthy micro-organisms through filters, but why not destroy them? With our air disinfection system with UV-c technology,
we are able to eliminate germs and bacteria completely, creating totally virus-free environments.
HEPA and active carbon collects
PROCESS
How does our UV-c technology disinfection machine work?
① Contaminated air passes through the interior of our machines and, thanks to its forced ventilation system, disinfection takes place inside the device. This makes it an ideal solution to disinfect the air constantly in the presence of people in a safe way.
By means of the disinfection stage (UV-C) ③ after filtration with HEPA H13 filters ②, we guarantee 100% elimination of viruses that may be carried by any other particles. In this way it purifies, disinfects and eliminates all types of harmful microorganisms in the environment ④.
Contaminated air
Contaminated air enters through the bottom of the machine.
HEPA H13 filters
Air filtration through high efficiency HEPA H13 filters.
UV-c lamps
Disinfection stage and elimination of viruses and bacteria by means of UV-c lamps.
Purified air
The disinfected and purified air is discharged to the outside through the upper part of the machine.
DISINFECTION BY UV-C TECHNOLOGY
Eliminates 100% of bacteria and viruses
This type of ultraviolet ray (UV-c) is particularly effective in destroying the genetic material of micro-organisms such as viruses and bacteria, preventing their replication. Since its discovery in 1878, it has become a basic method of sterilisation, being used every day in hospitals, aeroplanes, offices and even food factories.
Unlike ultraviolet A (UV-a) and ultraviolet B (UV-b), UV-c rays have a shorter and more powerful wavelength than the others. This makes it possible for UV-c rays to kill all types of bacteria, viruses and other pathogens.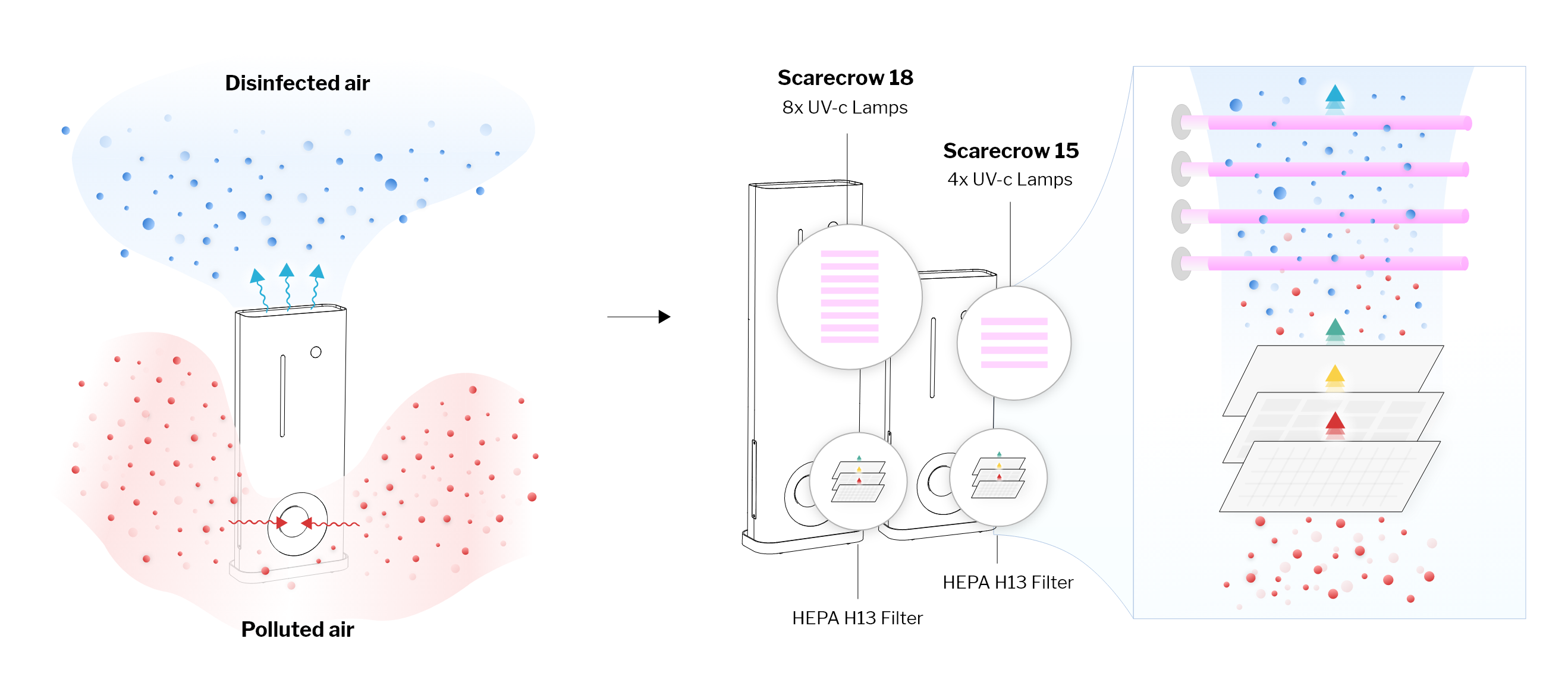 DISINFECTION SOLUTIONS BY UV-C TECHNOLOGY
A product for every need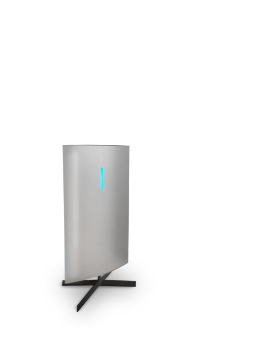 Northern Fairy
UV-C AIR DISINFECTION FOR ROOMS UP TO 40 M².
99% safe disinfection in the presence of people. Specially designed for small rooms such as homes or offices.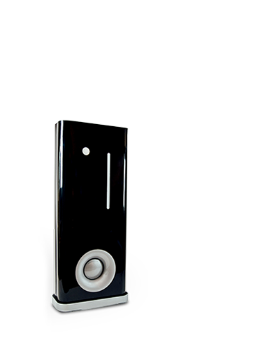 Scarecrow 15
UV-C AIR DISINFECTION FOR ROOMS UP TO 250 M².
100% safe disinfection in the presence of people. Ideal for any type of business, such as restaurants and workplaces.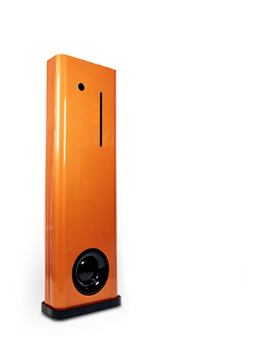 Scarecrow 18
UV-C AIR DISINFECTION FOR ROOMS UP TO 500 M².
100% safe disinfection in the presence of people. The perfect solution for large commercial areas and big environments.
UV-C AIR DISINFECTION
Eliminates bacteria, mould, viruses and much more
with an innovative and certified system
AIR SANITISATION BY UV-C TECHNOLOGY
Where can you use our air disinfection machine?
DESIGNED TO BE USED SAFELY WITH PEOPLE

Health facilities

Homes and residences

Vehicles and transport

Catering and hospitality

Workplaces

Shops and establishments

Spas and gyms

Workshops and dealerships
Wizard's technology destroys the widest range of potentially airborne contaminants, such as viruses and bacteria, compared to conventional air purifiers.
Wizard's air purification technology inactivates all types of airborne viruses, including H1N1 influenza virus and coronavirus strains.
Universities, scientists and organisations such as the WHO prove this. The application of UV-c lamps in combination with carbon and HEPA-13 filters of Wizard machines scientifically guarantee disinfection and air purification of rooms in the presence of people.

"With a virus density comparable to that observed in SARS-CoV-2 infection, a UV-C dose of only 3.7 mJ/cm2 was sufficient to achieve a 3-log inactivation."

"UV-C radiation damages virus nucleic acids (DNA and RNA) preventing virus replication and causing inactivation. It applies to all types of viruses, bacteria and fungi."
The perfect harmony
of design and engineering
Stylish recycled aluminium tower with a modern, minimalist design
designed to fit and blend in anywhere.
Do you need a business solution?
We help you find the product that best suits your space and needs. Send us your enquiry via the contact form.
Tell us how we can help you.